Spring Berries and Cream Chocolate Layer Cake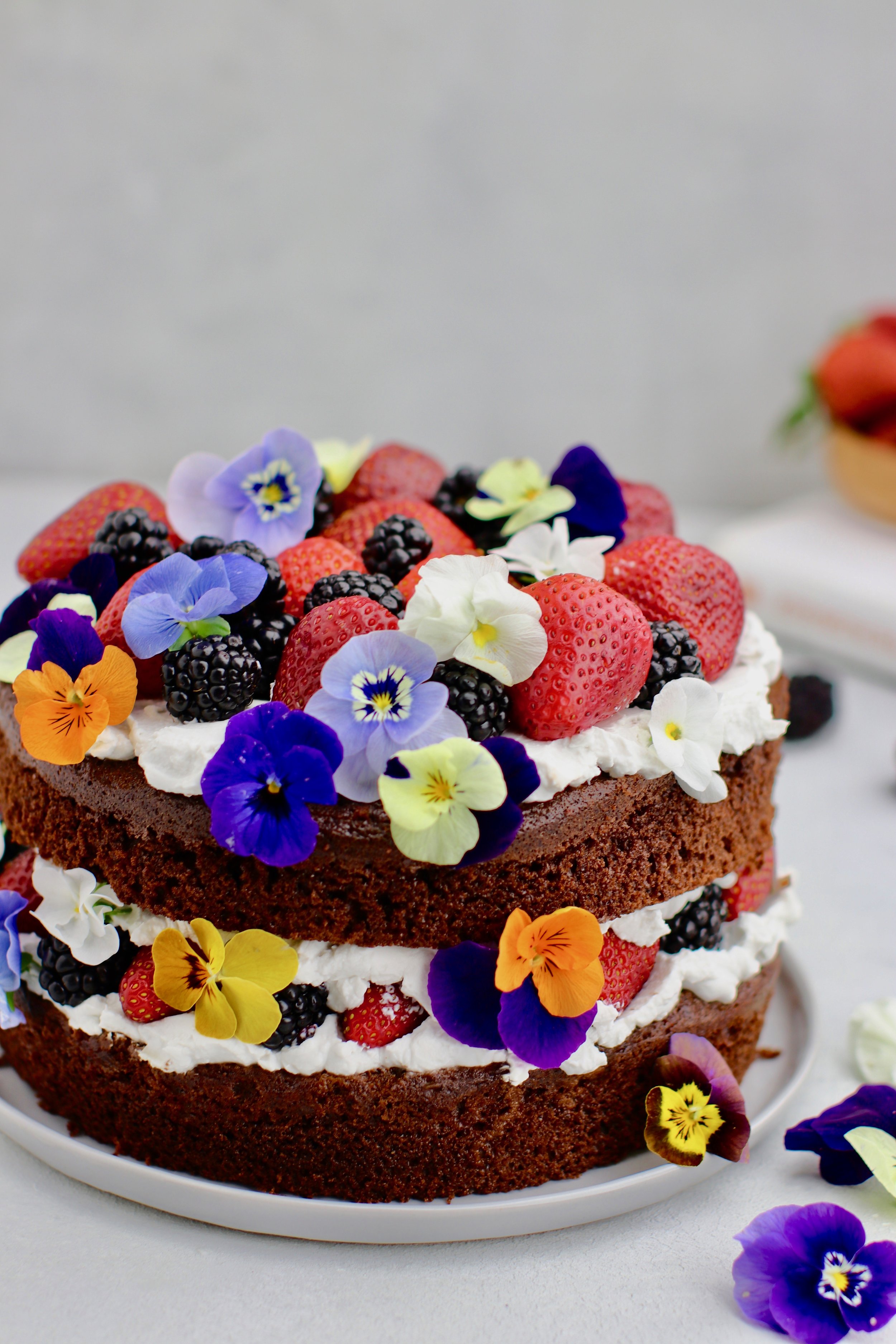 Stacked with seasonal berries!
INGREDIENTS
2 cups fava flour
1 cup coconut sugar
1½ cups cacao powder
1 tsp baking powder
A pinch of salt
¾ cup maple syrup
1 tbsp apple cider vinegar
1 tsp vanilla extract
1 cup almond milk
½ cup olive oil
1 tbsp coconut oil
Cream frosting
2 16 oz. cans chilled coconut cream (refrigerated overnight)
2 tbsp maple syrup
Berry flower filling and topping
Add seasonal berries of choice (we chose strawberries and blackberries) and edible flowers (optional)
METHOD
Preheat oven to 180 Celsius. Mix dry and wet ingredients separately in mixing bowls, then combine the wet ingredients slowly to the dry ingredients while whisking.
Spread the coconut oil along two cake pans. Evenly distribute the cake batter into the cake pans and transfer to the oven
Bake for 40 minutes or until a fork comes out dry after poking the cake.
Meanwhile, prepare the cream frosting by mixing the coconut cream with maple syrup.
Let the cake layers cool 10 minutes after removing from the oven. Remove from cake pans. Distribute the coconut cream mixture into thirds, putting 1/3 portion on the top of each layer. Then, add Spring seasonal fruit of your choice on top of the cream layer. Finally, add the remaining 1/3 cream layer on top of one layer. Assemble the layer cake by carefully putting the layer without the additional cream mixture on top of the layer with the cream mixture.
Enjoy.